Home-Cooked Meals
Our kitchen staff takes great pride in preparing healthy and delicious meals. We only use fresh local ingredients and avoid cooking with processed foods. All of our kitchen staff has been with SSG for over a decade which means the recipes are well tested and approved.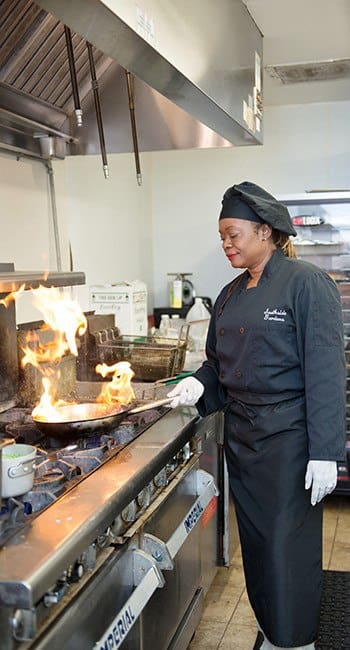 Meet our Chef: Celeste Gill
Chef Celeste was trained in Hawaii, and has been cooking for over 20 years, bringing flair and original fusions of classic, Cajun and Asian Pacific styles to any event, cooking for celebrities including Rosie O'Donnell, Matthew McConaughey, John Edwards, the casts of blockbuster movies and even the Pentagon staff!
Chef Celeste has owned and operated 4 restaurants in and around the Baton Rouge area, with the latest venture, "Chef Celeste's Louisiana Treasures" located inside the Mainstreet Market.
She has appeared on the Food Network and has her honey mustard sauce in local grocery stores.
From private catering to corporate functions, kitchen consulting to emergency feeding, Chef Celeste and staff has you covered.
Cooking Up Louisiana Treasures!
Watch Chef Celeste in the new state wide TV show, showing you how to connect with local foods and bring simple, fresh and tasty meals to the family tables.